Computer Gaming doesn't refer to playing 2D games on your desktop anymore. Gaming has gone online, with 3D graphics support and amazing performance.
Online gaming is on a rise, we get to play against gamers from across the globe.Online gaming, too has evolved in stages, from simple online flash games, to sophisticated RPG, action and racing games.
These are 5 of the best online Massively Multi-Player (MMO) online racing games :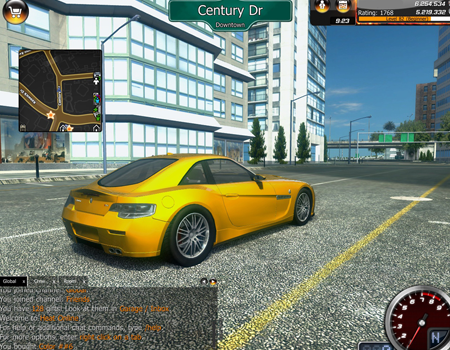 Heat online, which was previously known as Project Torque, is an MMO racing game, developed by Invictus Games.
This game is more realistic, as there are no weapons, boosts and missiles.  With Heat Online, you get drive some amazing cars, racetracks of Germany or the Hungarian and Mexican off-road tracks, in the English countryside, on the rooftops of Shanghai and many more.
The players win points by racing, with which  customize the appearance and performance of your ride.
Unfortunately, this game is available only in USA, Canada, and Mexico.
Minimum System Requirements
Operating System : Windows XP/Vista/7
Graphics Card : ATI 9600 / Ge Force 6600
Upshift Strike Racer is a MMO car racing game, developed by N Channel, and published by gpotato. This one is a high-octane car combat game, where you drive a car provided with weapons, and compete with the other player cars.
You can choose from 4 game modes – Single and team races, racing (without weapons), strike racing (racing without weapons), and time-attack.
The players are able to use turbo speed boosts, pick up power-ups while driving,  and form clubs while playing. You also get light and reputation after each race, which are the same as experience, and money in other games. You can buy kits, accessories, weapons depending on your reputation.
Minimum System Requirements
CPU : 1.6 GHz Pentium 4 or equivalent CPU
Graphics Card : NVIDIA GeForce Ti 4200/ATI Radeon 8500 series
Need for Speed World, the 15th game of one of the longest surviving gaming series, Need for Speed. It is a 3D racing MMO game developed by EA Sports.  This game comes with some amazing graphics, smooth gameplay, and plenty of visual customization options.
The gameplay style is the same as of every other NFS game, amazing cars, high speed and illegal driving, and police chases. Currently, there are 30 cars available to choose from.
It is definitely one of the best MMO racing games out there.
Minimum System Requirements
Operating System : Windows XP/Vista/7
Processor : Core 2 Duo2.0 GHz
Drift City is another MMO racing game, but it's different from the others.
It has an interesting storyline, set in the future when there is shortage of oil in the world. Somewhere in the island of Mittron, a new fuel is discovered.
While the entire world and the OMD Government are planning to tap this newly discovered fuel for progress, a few mysterious cars called HUVs terrorize the streets of Mittron Island. You play as an OMD driver and you are assigned the job of suppressing these HUVs.
It's intereseting story, along with it's unique cars and accessories make it one of the best MMO games out there.
Minimum System Requirements
OS : Windows 2000/XP/Vista/7
CPU : Pentium 4 (1.8 GHz)
Graphics Card : GeForce 4 64 MB
This one is another interseting MMO game, with a unique gameplay. Project Powder is a 3D, snowboarding game, where you are to race down snow clad mountains.
A maximum of 8 players are allowed in a race. The game comes in 3 modes – Race, where you race in a team or alone, Coin, where you earn coins based on your performance and the player with most number of coins wins, and Battle mode, where the players can use a variety of items to be victorious.
Project Powder is a fun game, and it's unique and smooth gameplay make it even more interesting.
Minimum System Requirements –
CPU : 1.6 Ghz Intel P4 or equivalent
Graphics Card : Geforce 4 mx 440 / ATI Radeon 8500 or equivalent VGA card.
Did you like this post ? I hope you did, :D. Which one is your favorite online racing game ? Share your comments with us.