TinyUmbrella is a small yet incredibly powerful tool that we use for saving SHSH blobs and downgrading our devices to a previous version of the iOS firmware. Keep reading for everything you need to know about TinyUmbrella app.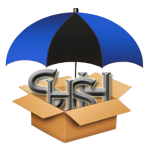 Downloading TinyUmbrella is as simple as clicking the Download Button above.
So what's the story?
Saving Your SHSH Blobs using TinyUmbrella:
Tiny Umbrella is compatible with PC and Mac so when you download it, you must make sure you download the correct version for your system. The Download link above will give you the choice of Mac or Windows.
It really couldn't be any easier to save your SHSH blobs; TinyUmbrella does the bulk of the work so you don't have to:
Connect your iPhone or iPad to your computer
Launch the app and make sure your device is detected. If not, unplug your device, shut down the app and then try again. 
Once the tool has detected your iPhone or iPad, it will automatically look for SHSH blobs on your device and will save them all to an external file.
TinyUmbrella can only save blobs for a firmware that Apple is still signing. If you have an older iOS firmware that isn't being signed anymore, the blobs cant be saved. That's why you should get into the habit of using TinyUmbrella as soon as you update your device – every time.
Things to note :
TinyUmbrella saves your SHSH blobs in a file named ~/.tu .shsh.
Another file named ~/.tu/ .known_devices is used to store details of all known details
SHSH blobs come in three types – OTA, Update (Restore) and Erase (Restore)
We're not finished yet
Fixing a Device In Recovery Mode:
Regardless of the reason why your device is in recovery mode, getting stuck in it is not what you want because the only way out of it is a complete restore and that means losing everything (although you backed it all up first, right?)
If you have TinyUmbrella, things are different because this incredible little tool can pull your device right out of recovery mode without changing anything – all your data and your settings will remain intact. Here's how:
Using the Download button above, download TinyUmbrella for PC or Mac 
Connect your device to your computer and shut iTunes if it opens
Open TinyUmbrella on your computer and let it detect your iPhone or iPad – a message will appear on the screen confirming a device in recovery has been detected
Click the Exit Recovery button in TinyUmbrella and your device will be taken out of recovery mode
Your iPhone or iPad will reboot and you should see everything has been left as it was.
Wait, there's more
Downgrading Your iPhone :
TinyUmbrella is also used to downgrade your iPhone, perhaps for the purposes of jailbreaking. You could have bypassed jailbreaking by installing 3rd party iOS app installers like the iOSEmus app which can download Cydia like tweaks without jailbreak. Whatever the reason you want to go back to an earlier iOS version, here's how you do it:
Create a Desktop folder called Pwnage
Download TinyUmbrella for PC or Mac and save the file to your folder
Download the iOS IPSW file for whatever firmware you are downgrading to and save that to the same folder
Open the folder and click the TinyUmbrella icon to launch the app
Plug in your device and let the tool detect it
A list of the saved SHSH blobs for that firmware version should appear; if not, you don't have any saved so click on Save SHSH
If you do see the blobs, click the Start TSS Server If the server fails to start, stop following this tutorial right now. If it does start, keep going. 
Launch iTunes and then place your device into DFU – press Home and Power on your device simultaneously for 10 seconds then release the Power button. Hold the Home button for a further 10 seconds and your device should be in DFU
Choose the device summary for the connected device in iTunes (only if you have more than one registered
Press ALT (mac) or SHIFT (Windows) on the keyboard and click the Restore button in iTunes
Find the IPSW file you downloaded and click it
Click on Open and iTunes will start the downgrade process.
When it's done, your device reboots.
Your turn now
TinyUmbrella is the most useful tool at your disposal and you should make regular use of it especially for saving those SHSH blobs. Download it today and start benefitting from all the incredible features. For more cool tips, follow us on Facebook.